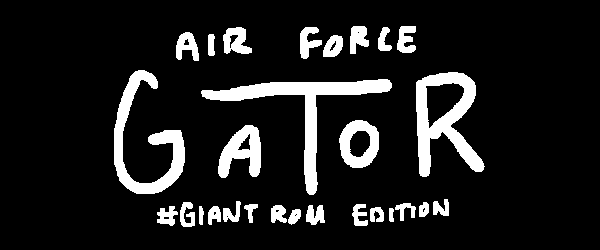 AIR FORCE GATOR
AIR FORCE GATOR
- A GAME BY DYLAN SEAMAN-
-MADE IN 8 DAYS FOR #GIANTROM, THE GIANT BOMB COMMUNITY GAME JAM - #9 in AWESOMENESS, #14 OVERALL-
---
UPDATE (APR-06-2015): SUPPORT FOR PLAYERS WITH TRACKPADS, CHANGED LOADING SCREEN TO GIVE YOU A CHANCE TO READ THE CONTROLS.
*NEW* PLAY IN BROWSER because why not
---
Terrorists have stolen the world famous GATOR PLANE. As AIR FORCE GATOR, you must fight your way through their ranks in order to reclaim what is rightfully yours, OR DIE TRYING.
watch GIANT BOMB play this on the BIG LIVE LIVE SHOW LIVE
---
CONTROLS
---
Air Force Gator is based on the character created by Dan Ryckert. You can buy the books here.
Sound effects come from freesfx.co.uk and freespecialeffects.co.uk, as well as from the Bombcast. Featuring the voice of Dan Ryckert as all the terrorists.
Install instructions
Tested on Mac and briefly on Windows, Linux unknown
Extract the .zip, play the game. Good luck. 🐊✈️
Contact me on twitter if anything goes wrong, @chronotweeter.
---
Known bugs:
Gator's animations are kinda wonky
Enemy's gun flashes linger
Will update if/when other bugs/issues are found.